Willkommen / IPFM-Business-Simulation
Industry - Production - Finance - Management - Simulation
More Info?
PPT: General Info about IPF-Management - Simulation

Online-Interactive: IPF-Manager on FACEBOOK

Step 1 -Your first contact to Business-Simulation IPF-Managemnt
Congratulations - The first step is done. You have found the IPF-Management-Simulation. As following discribted, You are able to start the Simulation very fast. Check Your Management-qualification, train and rise up Your success. .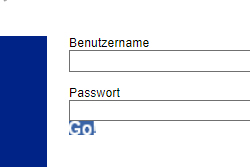 Step 2 - Username and access code
To take part in the IPFM business simulation you need a username and access code.

You have the following options for obtaining the username and access code:
- Inquiry via email
- You work with a simulation manager who will send you a user name and access code
- You have received your username and access code in another way

The access data are only intended for one user.
If access data is used a second time without authorization, the access authorization
expires

Now go to the simulation website.
Click the "to simulation" button
Enter your login information.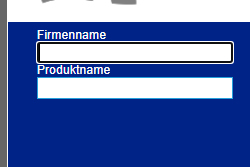 Step 3 - Start of the game - company name
Welcome to our business simulation.

Company name: Depending on the game version, you will be asked to enter your company name, which you can choose freely.

Choosing a company name is not an easy task, because in reality finding a name for a company is a longterm decision.
If you play in a group, you can discuss a distinctive name for your company.

What should be considered when choosing a name for a company? (Find001)

The subject of "legal form" is very exciting and influences some areas that are also valid in this simulation. Which legal forms of companies could be chosen here? (Find002)

For Your information: You will be working with a public company here. What could that mean for you?

Step 4 - Product- name
You have to specify the first name of your product now or in the course of the game immediately afterwards.

Depending on the industry, customer or product use, the choice of the product name is of considerable importance.

Which considerations do you consider to be important when choosing a name for your product? (Find003)

Discuss the product name you will choose. You can also obtain separate information on the product and industry.

In context you know that you can produce several products (4) in the course of the game, which can also be offered in different price classes (high price segment and low price segment).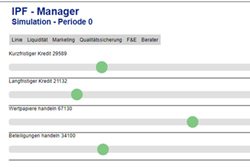 Step 5 - orientation
Before you make your first decisions, please orient yourself in the game.
What you see: You will see for example
- Information area
- Analysis area
- Chart area
- Decision area


There may not be much to see now because you are just beginning your simulation.
For your orientation, click through the areas and get an overview


Discuss or consider: What kind of information could one get from the balance sheet and income statement (P&L)? (Find004)


Step 6 - planing
Make an initial plan that makes a statement about how you want to proceed.


Consider or discuss what your plan will look like in the near future, but also in the medium and long term:

What would you like to understand as short-term, medium-term and long-term planning? Find005
What should a first rough business plan include? (Planning areas)
Find006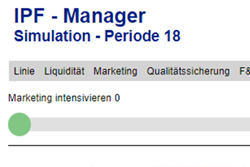 Step 7 - make decisions
You have now finally arrived at the simulation.

Discuss what your first decisions should look like:
Click the Decisions area. All possible decision-making areas are displayed there.
- In which areas would you like to make your first decisions?
- Enter your choices!
- by clicking on "next period" you complete all decisions and can see the consequences of your decisions.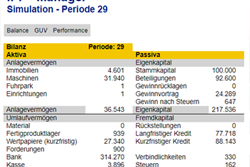 Step 8 - Check and continue to deciden
You have now reached the next decision period

- Check your new company situation
- Discuss the results and consequences of the decisions made in the previous period
- Make your decisions for the current period
- Check your planning and take into account your objectives
- Are your decisions effective?

- A general and overriding goal is to increase the share price.
Try to increase the share price